Second Illiteration wrote:
I've been working in computer music creation for 15 years. I'm no expert but would certainly jump at the chance to do some soundtrack work. Years back I made a couple short tracks inspired by my play in trespasser
Well, that about settles it.
If you get any free time or ideas, perhaps you could give some Jurassic Park inspired tracks a go? If you make any tracks, try and keep the same themes as in the movie, but try and give it a darker undertone...perhaps songs could be less upbeat or fast-paced, sort of like the Jurassic World piano music from the trailer. For a start, I'll give you a quick list of music we could need off the top of my head:
Visitor Center arrival
Visitor Center second floor
Visitor Center lab
Jurassic Park gate
Brachiosaurus lagoon
Raptor Pit
Inside Raptor Pit
First carnivore encounter
I'll have to open up the private forum for you and add you to the team so we can discuss this further without giving anything away.
Welcome aboard the ghost ship!
Slugger wrote:
Some how I missed that rocket launcher vid....looks really awesome!

Did you script it similar to TCI's spitter and spittal or the harpoon gun? I take it the explosion uses HD textures? Nicely done!
Thank you!
It took me three days to get that thing set up because I was unaware of the harpoon gun until after I'd finished it. Basically, you take the rocket launcher, which is unloaded at first, put a rocket in the back and then you're good to go. I can't exactly remember the scripts I used to make it work...the rocket itself is an object being teleported to the barrel of the launcher and put on a constant speed until it hits something, at which point it is teleported away and the explosion appears there. I'm still working on getting area effect damage to work with it, though. Can triggers be teleported by any chance?
I couldn't script it like the Spitter (I did try it, though) because Tres CE doesn't have the spit functions implemented yet, hence the reason I'm pestering Lee Arbuco about it.
Oh, and the explosion is actually one of few objects using normal 256x256 textures!
Aaaaanyway, I think it's about time already, so:
WEEK (I guess we'll call it) THIRTEEN - March 27, 2015
----------------------------------------------
And everyone following the mod breathes a sigh of relief and screams "FINALLY!" at the screen.
I'm finally going to do another update, though to be honest I've had enough content to post this for a while now. I've been fairly busy recently, though I've been working hard on the mod in my spare time alongside some personal projects and graphic design. Hopefully nobody thought I'd abandoned the mod - at this rate, though, with a map this size, you can expect a development cycle about the length of Dark Secrets (that being nine years
), but hopefully progress will come soon enough!
For starters, it appears my modelling skills have improved as I've been working on several new building models, which have been the bane of my existence for some time now. They're looking good in-game too, as you will see further on. I've also added a lot more to the map itself and done a ton of terrain work on the central park area, including the Brachiosaur Paddock. Because of the way my park map is set up, the area surrounding the brachiosaur lagoon itself is supposedly largely fenced in and in very tight quarters - something not seen in the film. Therefore, I have decided that the paddocks for the unseen dinosaurs (metricanthosaurus, baryonyx, proceratosaurus and stegosaurus) will be incomplete, opening up a good deal of space for other constructions or locations. I had done something similar with the herrerasaur paddock in the old RTJP, but it was only to open up the tiny area that represented the location of the gallimimus stampede in the film. Fortunately, with the larger map, this field will probably be relocated and much more accurate. As for the brachiosaur lagoon, well, here's a sneak peek:
I've also done a ton of work on the Aviary and canyon it is situated in. I made a brand-new model and improved vastly on the general idea and concept I had in mind:
This time around, the entrance will be a sort of mini Visitor Center lobby, with patios on either side for visitors to eat and relax. The actual lodge part will be incomplete, with just the basic foundations laid out in a manner similar to the beach hotel from Trespasser. The back portion of the Pteratops Lodge lobby leads through the cliffside behind the building and into either an elevator room or a pair of escalators designed to carry visitors down to the incomplete viewing area and restaurant, which will have transport down to the location of the River Adventure ride. The lobby entrance is based on some concept art of the Aviary for the film.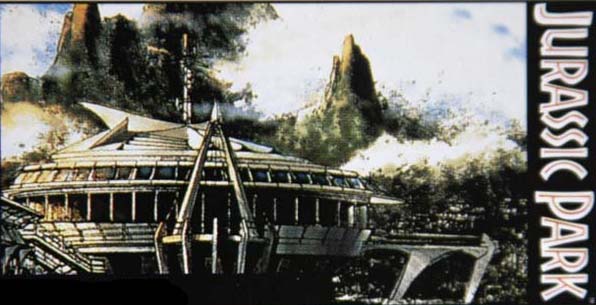 The Aviary will not be accessible until near the end of Diane's adventure and will be a very special part of the game - no details yet.
For most of the journey, you'll only have distant views of the misty canyon and Pteratops Lodge structure. Can't wait to get cracking harder on that whole area!
I plan to start work on the Dilophosaur Paddock soon, making it similar in nature to the old RTJP version, which I rather liked. I've got to update the physics boxes on all my meshes because their anchors are messed up, but I should be able to import the remaining fence types and get rolling on there soon. I'm also contemplating ditching the idea of all this brand-new foliage unless I can find a skilled person to make meshes fast, because at the moment it's seriously holding me back and I'm not really liking how it looks anyway. If so, I'll be deleting a few of the current meshes and keeping others, importing the foliage from the old level and using it instead. The textures could perhaps be redone, but my trees don't really blend in too well.
Make sure to leave your opinion though!
Oh! Nearly forgot! I've gone and created a new dinosaur skin based on Jurassic World - introducing the metriacanthosaurus! Sorry for taking the screenshot in the basement - I was too lazy to move it into the playing area.
Yes, baryonyx will also be receiving a JW-style skin, but those are the only two dinosaurs that will. Proceratosaurus and segisaurus will be (hopefully) original and unique. In previous versions, I've never been happy with my ideas, so I might have to turn to other inspiration when I get there. Getting accurate sounds might prove an issue as well until JW comes out, but I'm not really counting on all of JW's website dinosaurs to show up in the movie, so I might end up finding my own.
And now this update comes to a close. Hopefully I'll find time to post more of these, they're a bit of a pain to create and convert over to ModDB as well, but it'll be up there as soon as possible. Make sure you leave a comment, too - as always, user input is extremely useful for single-man projects! Adios for now, but god willing I'll be back soon!
Legendary Glitch of the Week:
Arm stuck in door...walking away just stretched it to extreme lengths until it suddenly flew back like an elastic. Not the first time this has happened, though...I'm looking at you, JPDS!