Shep wrote:
Oh great, now only me and draco will be on here for the month.
Quote:
:( Yeah what Shep said lol. Well have a good time! Maybe pop in every once in a while to see how things are going...
No worries, I'm still lurking around.
I got a couple of free minutes yesterday and had all of today off so I did a bit of RTJP work. Nothing too significant, though I did a bit of texture editing, replacing some general ones (wood, plaster, metal) with high-res and bump-mapped versions. Looks good so far, and I've finally figured out how to get nice specular maps too so shiny objects are actually shiny. I also finally finished replacing almost all of the frequently used foley sounds (ex. collisions with metal, wood, vegetation, water) with new versions for a brand new audio experience, which sounds great and is very refreshing after nearly 20 years of the same sound effects. Still have a long way to go for ambient, music, voice and dinosaur sounds, but it's about a third of the way done!
Also made some water-related objects to help detail ponds and such - a simple lilypad object, water bamboo, and a flat 2D plane object that acts like underwater algae for some extra detail (as well as extra concealment for the amphibious baryonyx). Will probably do some quick underwater flora too for use in deeper pools and the ocean.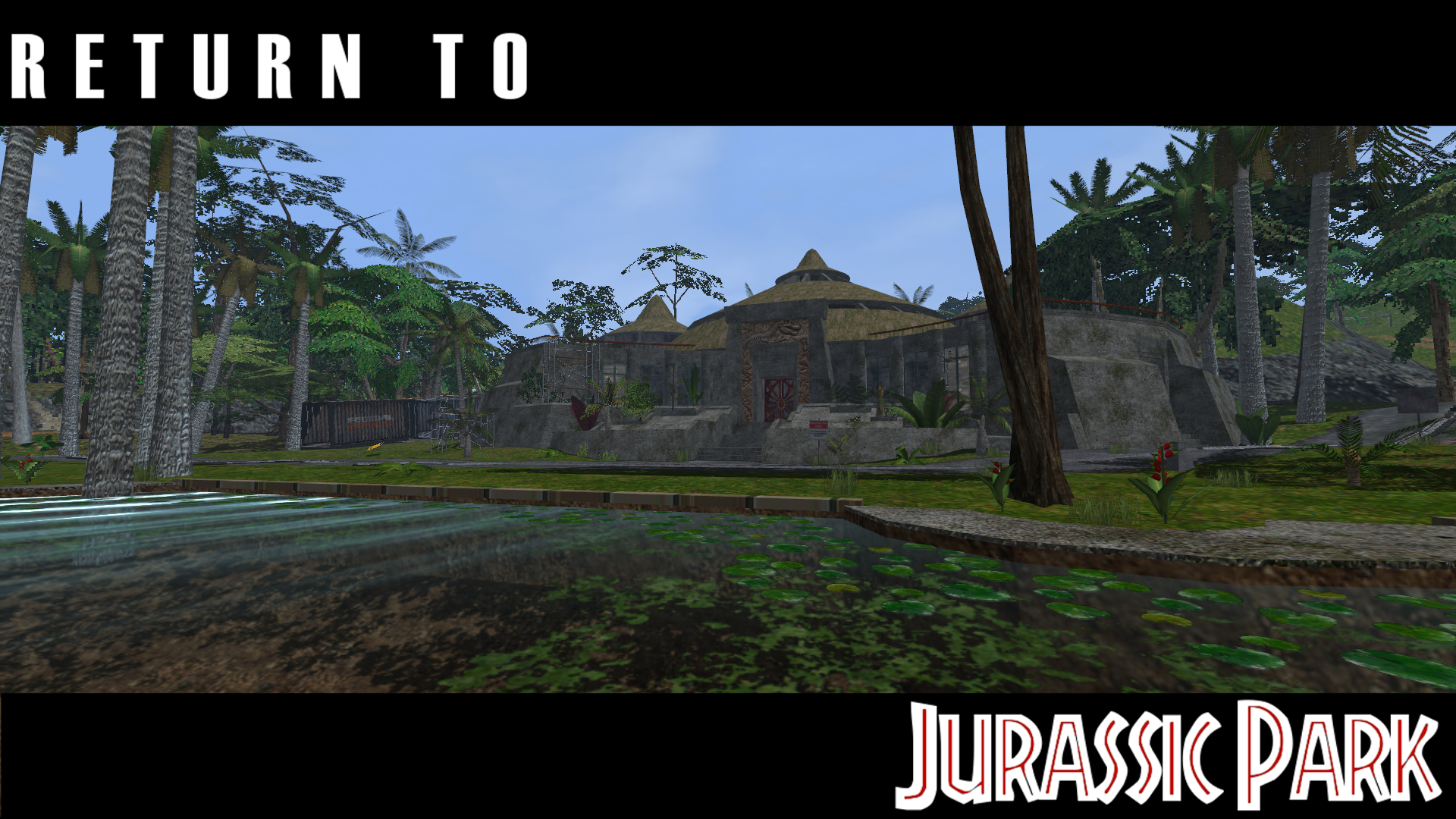 Additionally, I started making a bunch of new foliage just for the heck of it because I'm sort of bored of the old TC~Isle and Tres stuff
. Not sure if all or any of this will show up in RTJP, but I really like the way it looks so far. Made a small test area for what I've done so far and I think I may have achieved Nirvana as far as Trespasser's detail and graphics go
:
I think most of the bigger objects like trees, elephant ear plants and bamboo could work in RTJP, but the bushes were purely created to make the most realistically dense jungle scene, so without them being crowded together they might not look as good. It would be impossible to detail all of RTJP's Isla Nublar like this as I would very quickly hit an FPS wall.
However, I'm contemplating replacing my Beach HD foliage with this new stuff as it takes up much more area per plant (one bush covers the same area as 3 smaller plants) and makes for a much more realistic looking jungle scene, thus saving me a LOT of time and producing a much nicer and more detailed scene with roughly the same old perhaps slightly less polycount. While some of the plants are relatively high-poly, they make up for this by taking up a lot of area and being light on the physics objects.
What do you guys think? Want to see all or some of this stuff in RTJP? Or just stick with what I have so far and save roughly four more hours of plant work?